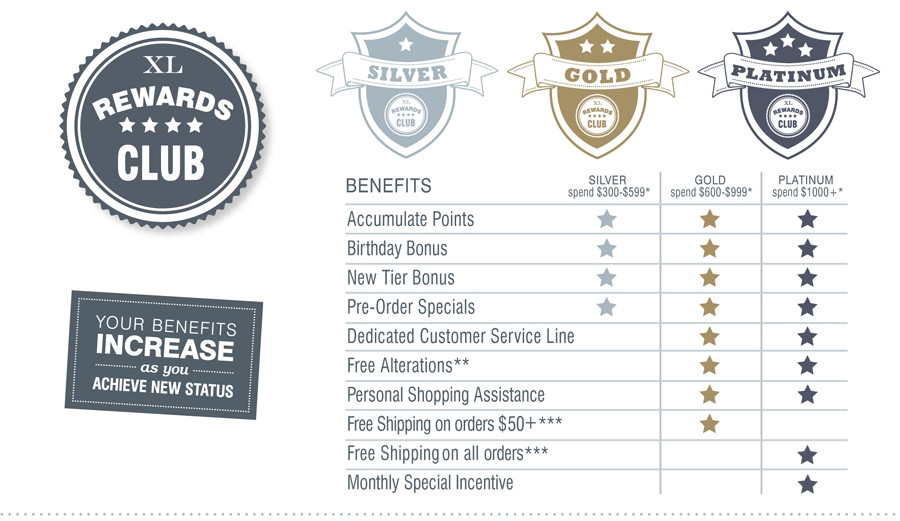 It's Easy to Become an XL Rewards Member
All you need is a valid address
Providing an email address will ensure that you receive the most benefits from the program
The More You Spend, The Better Your Benefits
Earn 1 point for every $1 you spend
300 points = $15 Rewards Certificate
Points are good for 1 year from date of purchase
The more you spend, the higher tier you achieve
Your benefits increase with each tier
Membership tier is valid for 1 year from date of qualification
Flexibility and Added Benefits

Already an XL Rewards Member?
Go to your My XL Rewards account page
you must log in to your DXL account
select "Rewards" tab
...and enjoy the following features:
keep track of your rewards points
review your most recent certificate status
track all of this year's transactions
In order to take full advantage of the program's online features,
PLEASE ENSURE YOU PROVIDE US WITH AN ACCURATE EMAIL ADDRESS
If you have any questions regarding the program, call the XL Rewards Hotline at 1-888-489-7244.
Please allow 3-5 weeks for rewards certificates to arrive.
XL Rewards points are issued only on merchandise purchases made within the U.S.: in stores or online (to be delivered domestically within the Continental U.S.). Points will not be issued for gift card purchases, and cannot be applied to tax, alteration, or delivery fees. Points must be more than 30 days old before a certificate can be issued.
*Eligibility for program tiers is calculated on a rolling basis. You have twelve months from the date of enrollment to meet our first purchase threshold, and then another twelve months from that date to meet the next threshold, and so on.
**Free basic pant hemming in-store only, where available.
***Free shipping only available for standard domestic deliveries within the Continental U.S.
Destination XL Group reserves the right to change or rescind the terms and conditions of the XL Rewards program at any time and without notice.